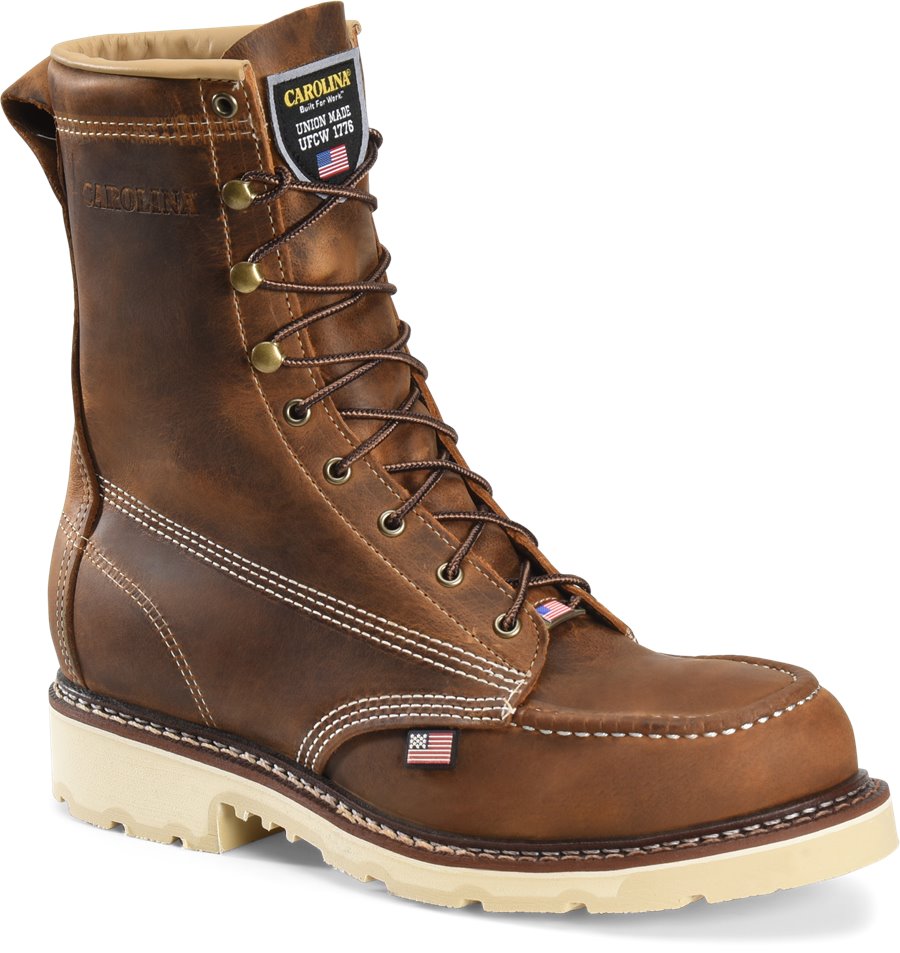 FERRIC USA STEEL TOE
Style #: CA7516
$194.99
This item is currently sold out.
Product Details, Technology and Reviews
ferric usa steel toe details
Men's 8" Domestic Steel Toe Moc Toe Work Boot
Old Town Folklore Leather Upper
Steel Safety Toe Cap
Removable Polyurethane Footbed
Poron® Performance Cushioning Insole
Electrical Hazard Rated
Steel Shank
Welt Construction
Slip Resisting Iron Heel Dual Density PU Outsole
Union Made in the USA with Global Parts
Technology
USA Made - Made in the USA with Global Parts. Footwear Manufactured in our Martinsburg, PA facility.

Slip Resisting - Soles designed and constructed with materials to meet the standard for slip resistance.

Steel Toe - Footwear that meets or exceeds the ASTM Standards for compression and impact testing rating of ASTM F2413-18.

Electrical Hazard - Footwear tested by an independent lab that can withstand applications of 18,000 volts at 60hz for one minute without leakage.

Poron Performance Cushioning - Versatile, shock absorbing material that's manufactured for the toughest daily wear.
Reviews for ferric usa steel toe
Write A Review
Review by: steven, Mountain Home. Arkan, 10/22/2020
I felt this product's fit was: a half size smaller
I felt this product's width was: true to width
I bought the Carolina 7516 to replace my 6 month old Redwing 2412's My Redwings are being resoled with a more the durable Vibram brand sole that I wish was on these in the first place . I can only compare the two models. The redwings took about a week to stretch on the width and I purchase the wide version on both shoes. The Carolinas fit a half size smaller and are comfortable from day 1. They feel lighter on my feet also, I am still adjusting the laces to get rid of some heal lift. I honestly look forward to finding out the durability on my new boots. So far I am extremely happy. Happy enough to write a review on my 2nd day of wearing them. I will know in a couple months if I abandon Redwing and become a loyal Carolina customer. So far I have no regrets.
Review by: John, PA, 7/2/2020
I felt this product's fit was: true to size
I felt this product's width was: true to width
These boots are legit! Switched from foreign made Redwing steel toe & could not be happier, boots are like butter from the start & the finish was amazing. Unfortunately it's only a three month review thanks to the new four legged companion, would have bought again but were unfortunately sold out, went with there 6" mock safety and they are just as amazing thus far, can't recommend a better boot!
Write a review for this product.